The Arrangement of the 2nd Japan-Lao Public-Private Joint Dialogues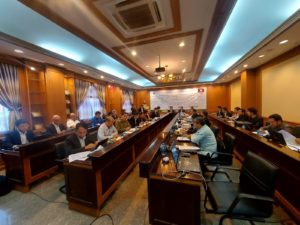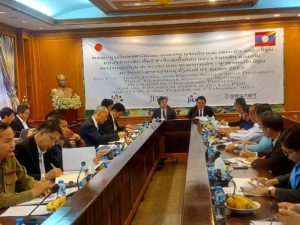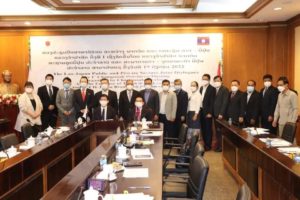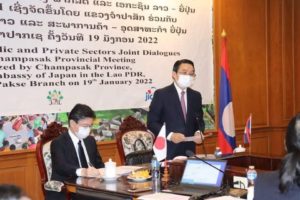 On February 1, 2023, the 2nd Japan-Lao Public-Private Joint Dialogue was held by the Pakse Branch of the Japanese Chamber of Commerce and Industry, Lao PDR (JCCIL) and Champasak Province at the conference room of the Champasak Provincial Governor Office. From the Japanese side, about 20 people attended, including Mr. Kobayashi Ambassador Extraordinary and Plenipotentiary of Japan, and representatives of JICA, JETRO, JCCIL and member companies. From the Champasak Provence side, about 20 people attended, including Dr. Vilayvong the Governor of Champasak Province and representatives of relevant departments. As a result, the total number of attendees was about 40 or more.
The dialogue was co-chaired by Ambassador Mr. Kobayashi and Provincial Governor Dr. Vilayvong, and proceeded in an interactive format, with the Japanese side presenting requests and the Champasak Province side providing explanations and responses.
There are six requests from the Japanese side this year. (1) Request for maintenance of National Road No. 13, which is used by many Japanese companies, (2) Confirmation of the maintenance status of National Road No. 16 and the border with Vietnam, and repair of bridges on National Road No. 20, (3) Confirmation of the status of Immigration Office and Dry Port in Vangtao (4) request to resume direct flights between Bangkok and Pakse; (5) Request an explanation of what to do in the event of a fire and contact information; (6) Request for relaxation of restrictions on the number of entries when entering Thailand by land.
All requests from the Japanese side were sincerely explained and answered by the provincial governor and representatives from each department of Champasak province.
Thanks to the cooperative attitude of the Champasak province, Japanese companies were able to expect future improvements and feel secure about continuing their business in Laos.