PJSEZ signs MOU with Yamamoto Farm for cooperation.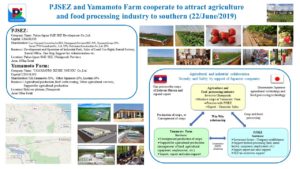 PJSEZ and Yamamoto Farm are agreed to sign the MOU for cooperation on 22 June, 2019 aiming for attraction of agriculture and food processing industry to southern of the Lao P.D.R. particularly process crops at Yamamoto Farm and process agricultural products in PJSEZ, Champasak Province for distributing in the Lao P.D.R. and export to international.
Furthermore, Agricultural and Industrial collaboration security and safety by support of Japanese companies.