PJSEZ signed MOU with Champasak Vocational and Technical College.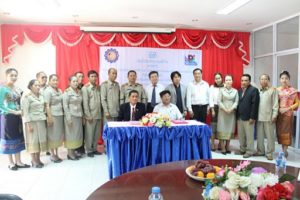 CTC is the largest national vocational training school in southern of the Lao PDR, and there are several departments such as: sewing, tourism, machinery, electricity, metals, architecture, woodworking, etc. The number of students is there more than 3000 people and many graduates are produced in each year. This time, Pakse-Japan SME SEZ (PJSEZ) and CTC signed MOU for the purpose of introduce personnel, promote employment and mutual cooperation on vocational training.                                                                                CTC are pleased to give priority to introduce the excellent students and graduates for tenant companies in Pakse-Japan SME SEZ.
We will promote local employment and build a win-win relationship.