PJSEZ and Yamamoto Farm cooperate to attract agriculture and food processing industry.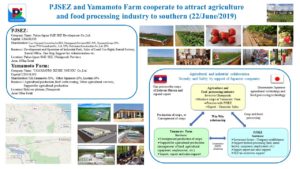 The "Bolaven Plateau" in southern of the Lao PDR is one of the leading agricultural production areas in the Mekong region. Altitude of 1,000m to 1,350m, cool climate of average 25°C temperature and over 3,000mm rainfall per year makes this region to enable the harvesting of humid subtropical crops throughout the year.  Currently grown crops are coffee, tea, ginger, napa cabbage, headed cabbage, chili pepper, peanuts, sweet potatoes, durians and etc. Yamamoto Farm and PJSEZ will jointly corporate and support cultivation of crops and further processing at PJSEZ, satisfying the customer's needs from both cultivation and processing.'
Click here for more details ➡ Cooperation with Yamamoto Farm.