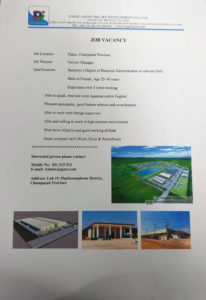 PJSEZ is seeking for new employee as Factory Manager.
Qualification:
Bachelor's degree of Business Administration or relevant field.
Male or Female, Age 25-40 years.
Work experience over 3 years.
Be able to speak English and /or Japanese.
Pleasant Personality, good human relation and co-ordination.
Be able to work with foreign supervisor.
Be able and willing to work in high pressure environment.
Must have initiative and good working attitude.
If you are interested, please feel free to contact us soon:
Mobile phone: 031 215 513
E-mail: admin@pjsez.com