POWER (PAKSE) CO., LTD. has acquired the investment license in Pakse -Japan SME SEZ.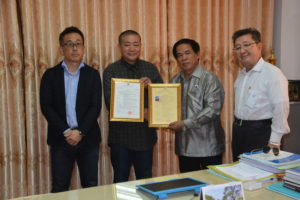 POWER Co., Ltd. (Meguro-ku, Tokyo-children's clothes manufacture and sale) decided to invest in Pakse- Japan SME SEZ, Champasak Province.
On February 20, 2018, Lao National Committee for Special Economic Zone Champasak Province is given the investment license and company registration to Power (Pakse) Co., Ltd. They are starting production at the PJSEZ Rental Factory.